Louisiana Melody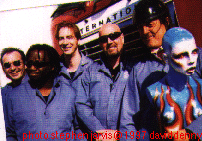 Picture-Tim Gorman, Myron Dove, Lyle Workman, DD, Prairie Prince and Prarie's artistic inspiration.
Louisian Melody is David's best-kept secret. Until recently, it was passed around inner circles of the music indurstry but never shopped to a label. The response has been overwhelming so now at last, it's available to the public!
buy this at CDBABY.COM
Check out all of the great musicians who jammed with me on the album:
Tim Gorman - Keyboards
(The Who, Jefferson Starship, KBC, The Rolling Stones)
Prairie Prince - Drums
(Tubes, Jefferson Starship, XTC, Dick Dale, Chris Issac, Tommy Bolin)
Ross Valory - Bass
(Steve Miller, Journey, Frumious Bandersnatch, Sy Klopps)
Myron Dove - Bass
(Santana, Steve Winwood, RobbenFord)
Bobby Vega - Bass
(Zero, Mickey Hart, Lee Oskar, Paul Butterfield, Etta James)
Lyle Workman - Guitar
(Beck, Todd Rundgren, Frank Black)
Jerry Donahue - Guitar
(Fairport Convention, The Hellacasters)
Steph Burns - Guitar
(Y&T, The View, Alice Cooper)
Jerry Miller - Guitar
(Moby Grape, Bill Champlin)
David Grisman -Mandolin
(Jerry Garcia, Old & in the Way, Earth Opera)
Bobby Strickland -Saxophone
(Harvey Mandel, Second Sight, Sy Klopps)
Kathy Peck -Background Vocals
(Contractions)
Annie Stocking, Genie Tracy , Larry Batiste - Background Vocals
(Bay Area session ringers)
Carlos Reyes -Violin
Michael Peloquin - Harmonica


Produced by David Denny and Stephen Jarvis with Tim Gorman and Nathaniel Kunkel.
Stephen Jarvis helped as an Engineer, Audio Consultant and Producer. Steve has worked with Journey, Montrose, Sammy Hagar, Sopwith Camel and Tommy Tutone to name a few.
Nathaniel Kunkel also lent his services as a Producer, Engineer and Mixer. Some of his credits include Lyle Lovett, James Taylor, Linda Ronstadt, Kenny Loggins, and Little Feat.
BU Y THIS AT CDBABY.COM